25 for 25: the Pro Bono Challenge
To celebrate our 25th anniversary year, and as we look to develop access to justice for the next 25 years, we invite you to take part in 25 for 25: The Pro Bono Challenge.
From Volunteers' Week June 2021 to Volunteers' Week June 2022, you are encouraged to
complete 25 hours of pro bono for our 25th anniversary.
The time you give pro bono has an extraordinary impact on the lives of those who apply to Advocate for help.
"What a great way to support Advocate: 25 hours of pro bono work for 25 incredible years. Working pro bono is such an impactful way of helping others. You can deploy your expertise and skills to ensure individuals, who would not otherwise be able to afford it, are well advised and represented. And, at the same time, say happy birthday to Advocate!" Emma Mockford, Young Pro Bono Barrister 2020 Award joint winner
"This is a really excellent initiative. We're all busy, but we can all find 25 hours in a year, and every one of those hours makes a big difference to someone. I'm planning to do it – I'd encourage everyone else to do so too!" Ben Collins QC, Pro Bono QC of the Year 2020 Award winner
On completion of your 25 pro bono hours, you will receive the following logo for your email signature or your individual Chambers profile. You will also get a named mention at the Bar Pro Bono Awards, along with all those who completed the challenge.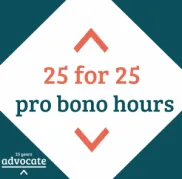 How it works

You are invited to keep a record of your own hours and to simply fill in this form on completion of your pro bono efforts, so we can send you a challenge completed logo!
You can count a range of pro bono activities 25 pro bono hours, including but not limited to:
Taking on cases with Advocate
Taking on pro bono work through other schemes, such as ELAN, ELIPS, CLIPs or LCCC
Advising in law clinics
Volunteering on pro bono cases through law centres or with community groups
Mentoring on Advocate's Collaborate scheme
Reviewing cases for Advocate

To register your interest and let us know you are completing the challenge please sign up here:
Take part in 25 for 25: The Pro Bono Challenge
"Why am I supporting the 25 for 25? In 2021 we are all striving for a better, fairer and safer world. By being part of Advocate's anniversary initiative we can all contribute to opening the door to access to justice - ensuring justice is not just a dream, but a reality." Dr S Chelvan, Advocate Reviewer